Solar grid connected
Getting the most from the sun. Generating the highest yield from the ideal synthesis between solar inverters and the installed solar panels, regardless of brand or type. This has been Mastervolt's offering since 1995. Over the past 20 years Mastervolt has supplied hundreds of thousands of inverters to an equally high number of satisfied customers, mainly in Western Europe. In 1999 we helped develop the largest residential solar project in the world (500 homes, 1.3 Megawatt) in the Dutch city of Amersfoort.
The future is looking equally bright for Mastervolt. The widespread interest in clean and sustainable power will continue to inspire us to develop smart and effective solutions such as the Mastervolt IntelliConcept, which increases PV yields by up to 10%.
IntelliConcept
One of these solutions is the Mastervolt IntelliConcept, a smart innovation that increases yield by 5 to 10%. An inverter should be able to deliver the highest possible yield, even in suboptimal conditions. The Soladin WEB solar inverters get the most out of your solar panels in all circumstances. This means not just outstanding performance in full sunshine, but also a maximum return on cloudy days. Eight built-in IntelliConcept innovations ensure optimal yield in all conditions.
IntelliShade

The standard IntelliShade regulator can be a very effective solution for minimising the effects of shade, without the drawbacks of optimisers and micro-inverters. IntelliShade allows even partly shaded solar panels to be used in a highly cost-effective way. This solution prevents solar panels from being adversely affected by shaded cells in other panels, ensuring that the yield of a partly shaded PV system still remains acceptable.
Monitoring
A PV system is a major investment, but one that will eventually pay for itself. People who only rely on the 'on' light, the inverter and the bills from the energy company do not see the full picture. Extra monitoring has added value, ensuring that you are getting the most out of your system. Fast identification of problems or breakdowns can prevent a loss of output, while the various read out possibilities provide an optimal insight into your system.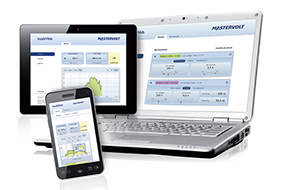 IntelliWeb
All of Mastervolt's Soladin WEB solar inverters are equipped with IntelliWeb. The inverters have an integrated data logger that stores yield information, and a WiFi connection for communication. For the management of multiple systems, Mastervolt provides a set of management functions under the name IntelliGuard.
Warranty terms
All Soladin WEB products and IntelliWeb® monitoring service come as standard with a 10 year manufacturer warranty. The full terms & conditions related to this warranty are available here.